Gilligan's Island Professor Promotes Pipe-Protecting FreezeAlarm
Based on the article "Gilligan's Island Professor Promotes FreezeAlarm" on entrepreneurevolution.com
Edited (with Introduction) by Dr. Don Rose, Writer, Life Alert
--
It's a safe bet that many (if not most) Boomers andseniors know the name Russell Johnson. He is the actor who played The Professor on the 60's sitcom Gilligan's Island (who could fashion a radio out of coconuts but couldn't fix the boat). Now Mr. Johnson is helping to promote FreezeAlarm -- a system that, like Life Alert, has been around for two decades and provides protection 24/7 for your home. However, whereas Life Alert protects and saves lives, FreezeAlarm literally protects a part of your home: your pipes. Read below for more details. –Don Rose
--
Russell Johnson, better known as "The Professor" from the hit television show Gilligan's Island, is lending his talents to a national radio campaign promoting the 20th Anniversary of the FreezeAlarm, manufactured by Control Products.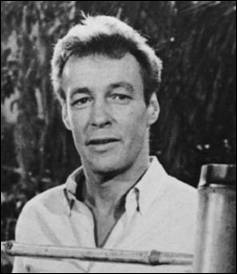 Russell Johnson, "The Professor"

The FreezeAlarm, which comes in Basic, Intermediate and Deluxe models, is a product that protects unoccupied homes and vacation property from damage caused by frozen, burst pipes. If the temperature gets too low or the power goes out, the FreezeAlarm automatically calls up to three phone numbers of the owner's choosing, warning them before the pipes freeze and burst. The popularity of the FreezeAlarm is due in part to its ease of installation. It simply plugs into a standard telephone line.
The Deluxe FreezeAlarm can also monitor rising temperatures -- in a home, cabin, refrigerator, walk-in cooler/freezer, computer room or greenhouse. The Pre-Heat/Cool Feature allows a user to turn the heat or air conditioning up (or down) with a phone call.

"The Professor knows a little bit about being away from home for a long time, so who better to promote the FreezeAlarm, a product that protects your home while you're away?" said Chuck Guerin, National Sales Manager. In the radio ads, Johnson incorporates some of the familiar lines from the Gilligan's Island show to help promote FreezeAlarms, such as: "Pick one up today… before the weather starts getting rough." The ads featuring Johnson as the Professor began running the week of November 13, 2006, in over twenty markets nationwide.

Since 1986, Control Products and its Protected Home division has manufactured products to protect a home or vacation property from damage caused by frozen pipes, leaky plumbing fixtures, and overflowing sumps through affordable, easy to use products that automatically call up to three phone numbers to alert of problems in the home. The products are available at local hardware stores or heating contractors nationwide.
---
The information provided here is, to the best of our knowledge, reliable and accurate. However, while Life Alert always strives to provide true, precise and consistent information, we cannot guarantee 100 percent accuracy. Readers are encouraged to review the original article, and use any resource links provided to gather more information before drawing conclusions and making decisions.
The article on this Life Alert website and the content it is based on are covered by a Creative Commons License. Please go to the Creative Commons License site for more information on the CC license that applies to this work.
Dr. Don Rose writes books, papers and articles on computers, the Internet, AI, science and technology, and issues related to seniors.
For more information about Life Alert and its many services and benefits for seniors – available in New York, California, Florida, and other states nationwide -- please visit the following websites:
http://www.lifealert.com
http://www.seniorprotection.com
http://www.911seniors.com