by Heidi Nestor, Writer and Editor, Life Alert
What does the autumn season and senior citizens have in common? Well, both display their full magnificent colors; both encapsulate the bounty of life's harvest; and both are synonymous with falling. For autumn, it's the leaves from the tree -- for the elderly, it can be a life changing catastrophe. What could have been a minor accident, can have fatal results if help doesn't arrive quickly after a senior falls.
Instead, turn over a new leaf with Life Alert Emergency Response. With Life Alert, you can live independently and feel safe knowing that with one touch of a button, emergency help is on the way fast, 24/7, and you don't even need a phone. Life Alert's remarkable 2-way communication unit alerts our emergency dispatch center where our dedicated and extensively trained dispatchers will talk to you and send help. Even if you can't communicate with them, they will still send help. With Life Alert, fall can be just a season and not a life changing catastrophe.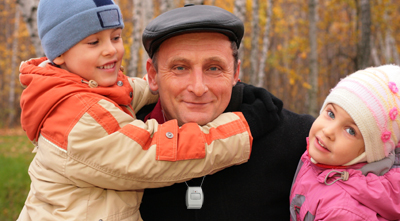 Another similarity between autumn and senior citizens is the distinctive bouquet of aromatic smells. Autumn is the time when the crisp, cool air gets flavored with grandma's special recipe pumpkin pie. But what you or grandma might not be able to smell is a CO gas leak from the stove where all that fabulous cooking is taking place. Carbon Monoxide (CO) is an odorless and colorless gas, and can build up to dangerous levels in your home when gas stoves, water heaters, furnaces, clothes dryers or fireplaces are not properly vented, operated or maintained. Life Alert's CO Gas Poisoning and Smoke Detectors are monitored at all times, and sends a signal to our dispatchers in the event that CO gas levels increase to dangerous levels, or if smoke is detected. Life Alert then contacts you and sends help.
Just as Scarecrows scare away creatures from a harvest crop; Life Alert's Home Intrusion Protection may also scare away creatures who threaten the harvest of one's life. When you press your help button, Life Alert's patented audio monitoring system is activated. Immediately, security dispatchers come on and can hear any activity within the house. If an intruder is present, our dispatcher will notify the authorities and warn the prowler that the police are on the way.
Even though the autumn season and senior citizens share a lot of wonderful qualities, you or your seasoned loved one doesn't have to end up like the leaves that fall to the ground. Life Alert's Emergency Response, CO Gas and/or Smoke Detector, and Home Intrusion Protection embodies all the bounty one needs to enjoy life independently with peace of mind. So if you find you can't get up after jumping in that big pile of raked leaves, just push your Life Alert button; help is on the way.
For more information visit www.lifealert.com or call 1-800-522-8296.
---
Summary
Can you guess how many similarities the autumn season and senior citizens have in common, and just where does Life Alert fit in to all of this?
The information provided above is, to the best of our knowledge, reliable and accurate. However, while Life Alert always strives to provide true, precise and consistent information, we cannot guarantee 100 percent accuracy. Readers are encouraged to research any statements made and use any resource links provided to gather more information before drawing conclusions and making decisions.
For more information about the Life Alert system and its many benefits for seniors as well as younger adults nationwide, please visit the following websites:
http://www.lifealert.com
http://www.seniorprotection.com
http://www.911seniors.com